How I Met Vic
by Brian Shekeloff
At the time I met Vic I was 33, and I had spent most of my life dabbling in artistic and intellectual pursuits. I sometimes say that I chased butterflies, and Vic is the biggest one I ever caught.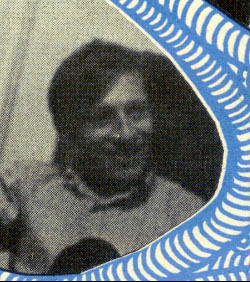 I was born in a Jewish ghetto in a heavily industrialized city in northern England before World War II, and along with my parents and sisters, I emigrated to the United States at age 13, a few years after the war, settling in Denver, Colorado. As a boy, my dreams were of being an artist and I pursued that dream through my first two years of college. Then I ran headlong into artist's block, fell out of love with painting, and fell in love with philosophy. I began what has become a lifelong study of different religious, metaphysical and philosophical teachings.
After graduation, in 1957, I moved to San Francisco, where the beat generation was in full swing, and hung out in coffee houses, drank espresso and cheap wine, listened to lots of cool jazz and poetry, and read books on Zen and other esoterica. For the time being, I had found my element. A couple of years went by and I married a woman who had graduated from Berkeley.
Becoming somewhat disenchanted with the way things were going in America, I left my job with the Anthropology Dept. at U.C. Berkeley and took my wife to Japan to live, teach English and study Eastern philosophy. We lived there for four years, at which time things were not going well with our marriage. My wife wanted to return to California and to start our 6-year-old son in an American school.
In 1967 a very important thing happened that clinched our decision to leave Japan. A good friend, a beat poet, sent me a copy of the Beatles' Sgt. Pepper's Lonely Hearts Club Band. It was obvious that something extraordinary was coming down back in the States, and I made my return in the summer of that year, to find San Francisco filled with tens of thousands of flower children who were using new drugs, listening to new music and talking about the power of love to change the world.
The U.S. I had left in the Kennedy years had vanished. It was an exciting, wonderful time, a revolutionary breakthrough in the way people thought and acted. I couldn't believe that the country I had left in the early 60's could be so different. I barely recognized my friends, who were now dressed like storybook characters, wearing their hair down to their shoulders.
About a year after my return, in 1968, I met Vic for the first time. He was an acquaintance of my estranged wife, and my best friend recommended that I go to a Mark Group that Vic was running, because he would straighten out this thorny, and by now violent, relationship that I had with my wife. Vic was wearing wing-toed shoes, slacks that were ironed to have a razor-sharp crease, an alpaca sweater, a monogrammed handmade shirt, a ludicrous pinky ring, and he had the demeanor of a slick salesman. He was so far removed from any of my preconceived images of what a spiritual man was supposed to look like that I simply couldn't believe he had any answers, but I was impressed with how perceptive and insightful he was and I agreed to come to a Communication course the next weekend.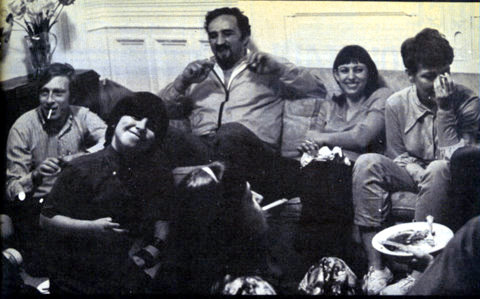 In the course we sat in chairs and stared at each other, and unknown strangers became beautiful. Between exercises Vic spoke something that sounded like a mixture of Existentialism and Buddhism, and I couldn't imagine where he had gotten these viewpoints. He made total sense to me. It was the most truth I'd ever heard expressed, and I was just mindblown that someone who looked and spoke like a flashy thug could have such sophisticated ideas. At some point during the course Vic asked me when I was going to start teaching for him, and I said I hadn't taken the courses yet. He replied, "I hadn't taken any courses before I started teaching either."
I do not think that I had ever met anybody whom I initially trusted less, but my contact with him crystallized the years of study I had put into Eastern philosophy. When I left that course, I felt that my head was clear for the first time in my life.
About this time, I met a lama who had escaped from the Communist takeover of Tibet, and I spent the next year with him in Berkeley, deeply involved with religious philosophy on a daily basis. At the end of the year, the lama made me a missionary and sent me on an assignment to address a congregation in Aspen, Colorado. It was there, in that fashionable ski resort, that I realized that all of my erudite scholarship would be wasted on the local population. To make it easier for them to understand the concepts, I stripped my speech of the Sanskrit and Tibetan terminology and reverted to plain English. This resulted in a very successful presentation, and more importantly, my realization that I was repeating many of the things that Vic had said to me a year earlier.
I returned to California, bade farewell to the Tibetan lama, and went to a Weekend with Vic course that Vic was teaching. I told him I was ready to teach for him and he replied, "OK, start! Get in a high place." Totally flummoxed, I thought he meant spiritually high. He repeated, "Get in a high place. Get somewhere everyone can see you. Sit on the back of your chair, Brian." Relieved, I climbed up on my chair-back, asked, "Any questions?", someone asked one, and I was off and running, having a wonderful time. The next weekend I taught my first full course, soon moved into Morehouse, and began a teaching career and a lifelong friendship with Vic. I have continued to be a part of the Morehouse community ever since.
---