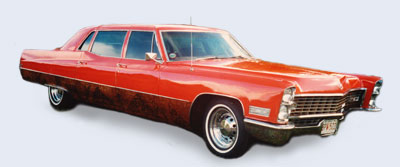 Aka & Da Kine Car
Vic excelled at seeing value in what others might consider old and worthless. He believed in loving people and things into beauty. For him, old limos fell into that category. Vic and Cindy had a limo in Lafayette that had been in a fire. It was a 1966 Cadillac that Vic had restored and painted purple. Vic named it "Lucy," after its previous owner, Lucille Ball. The license plate reads "PERFEKT."
When Vic and Cindy moved to Hawaii in 1988, they recreated their ambiance there. Vic wanted to maintain the limousine style of transportation but with a Hawaiian flair. He asked Anthony to find an old limousine with the $50 birthday gift Vic's buddy, Leroy, had given him. Anthony soon found a funeral director in a seedy part of Honolulu whose 1967 black Cadillac limo had been sitting by the side of the road for the previous seven years. He was more than happy to part with the car for $50.
It took Anthony three hours to get it running including fixing the flat, changing the hoses and battery, and hitting the starter motor several times with a hammer. By the time he and Gwen were driving through the town of Haleiwa on the way back home, it was growing dark, the car head and brake lights weren't working, and the exhaust pipe and muffler had fallen off. But they made it!
After the makeshift job that got the car home, Anthony got it running, and then he and Jack began the task of beautifying it, according to Vic's plan. First Vic had the car painted Chinese red and named it Aka, the Japanese word for red. Then he had it decorated with tapa cloth, a fabric made of tree bark and stamped with traditional Hawaiian designs. They glued tapa cloth to the sides of the car and to the dashboard.
Getting the tapa cloth to stay on the car in Hawaii, one of the wettest places on the planet was no easy job either. At that time, Vic & gang hadn't settled enough in Hawaii to have a sheltered or even just a covered work space.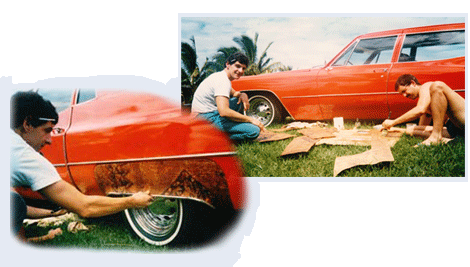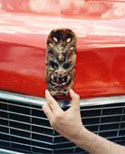 They had a lot of repairing to do along the way, getting the tapa cloth to stick on the car with Elmer's glue, Vic's recipe for success. Countless, nearly daily, coats of glue were applied to mend the irregular tapa cloth which was full of holes and shreds. This process was followed by coats upon coats of polyurethane. After all that, they finally had a real head turner! They crowned it with a Tiki hood ornament.
Aka was so charming that the guys went on to beautify "Da Kine car," a station wagon used for household errands.
"Da Kine", by the way, is a widely used term from Hawaiian pidgin which can mean virtually anything, especially that thing that you can't really think of at the moment. Like, "watchamacallit."
Da Kine car, because it was our go-everywhere, every day car, was seen all over the North Shore and became the envy of the surfer community, with its tapa cloth "woody" sides. It was the perfect beach buggy.
Embracing and honoring the local culture by driving around in those cars helped the haoles (not local/foreign person, in Hawaiian) integrate into their new community. Aka and Da Kine car each ran for almost a decade, always greeted by the locals with a traditional two-fingered Shaka!